In-house Automation
Automating industrial processes across global projects
Specialists in designing, building and engineering world-class facilities requiring robust automation and control.
Driving Unparalleled Consistency, Safety, and Sustainability
We offer a 'one-stop' shop for EPC projects, including automation and control from our in-house team, who are highly experienced with systems including Brewmax, Factory Talk and WinCC.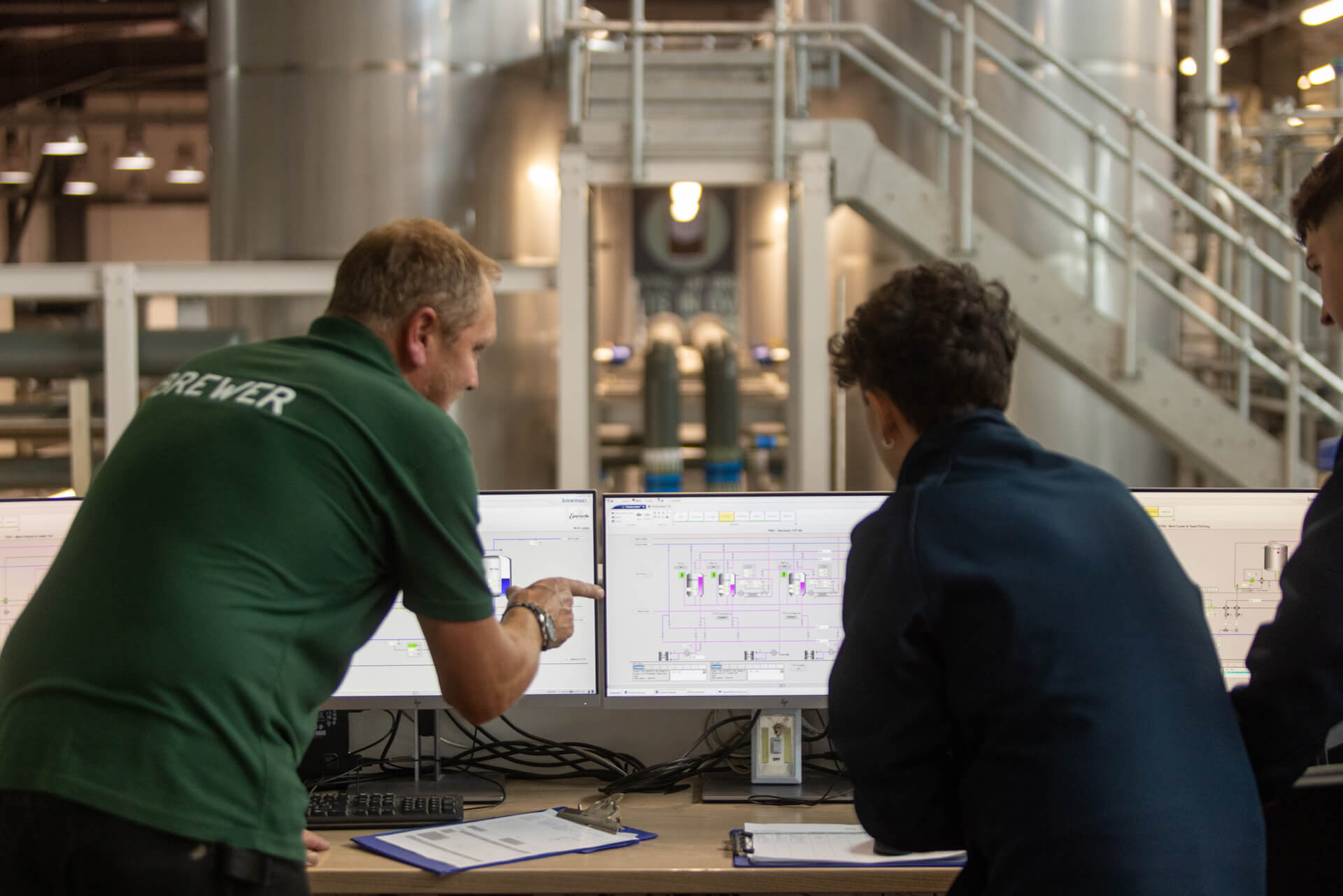 Unlocking the Power of Automation: How Process Integrators Revolutionise the Industrial Landscape
In industrial automation, a systems integrator plays a crucial role in designing, implementing, and maintaining complex automation solutions using specialist platforms for PLC/SCADA control. Systems integrators are experts in integrating various hardware and software components into a cohesive and efficient automation system.
Key areas of expertise:
Solution Design
We work closely with our clients to understand their specific automation needs and requirements. Based on this brief, we design a comprehensive and tailored solution to address the client's unique production processes and operational challenges.
Hardware Selection
We select the appropriate hardware components, including PLCs, HMI (Human Machine Interface) panels, sensors, actuators, and other peripherals, that are compatible with the chosen automation platform. We ensure that the selected hardware meets the technical specifications and performance requirements of the automation system.
Software Development
Developing the control logic and programming for the PLCs using programming languages like ladder logic, structured text, or function block diagram (FBD) is another key aspect of the process. We create the HMI interfaces using SCADA software, allowing operators to monitor and control the industrial processes effectively.
System Integration
One of the primary tasks is to integrate all the components of the automation system seamlessly. We ensure that the PLCs, HMIs, sensors, drives, and other devices communicate effectively with each other to achieve smooth and coordinated operation.
Testing and Validation
Before the automation system is deployed in the production environment, our team conducts extensive testing to verify its functionality and performance. They simulate real-world scenarios and evaluate the system's response to various inputs, ensuring that it meets the desired requirements and safety standards.
Commissioning
We support the commissioning phase, where the automation system is brought online in the actual production environment. We oversee the initial start-up, calibration, and optimisation of the system to ensure that it operates correctly and safely.
Training and Support
After the automation system is deployed, our team provides training to the client's operators and maintenance personnel. We offer ongoing support and troubleshooting services to address any issues that may arise during regular operations.
Upgrades and Maintenance
As technology advances and client needs evolve, we remain responsible for system upgrades and improvements. The team keeps the automation system up-to-date, ensuring it remains efficient, reliable, and compliant with the latest industry standards.
Contact us today

Learn more about our customised solutions and how we can help your business grow and thrive with our project delivery focus and bespoke process systems.