Briggs of Burton receive Learning Unlimited's Employer of the Month Award
Briggs of Burton are proud to have received the Learning Unlimited's "Employer of the Month" award for their dedication and investment towards the Learning Unlimited Apprenticeship programme.
The scheme has allowed the company to recruit high calibre apprentices that they shape with the right skills to suit the business but also their professional development. Briggs of Burton headquartered in Burton upon Trent operates on a global scale with offices in Rochester, New York and now a presence in Shanghai.
Each apprentice follows a structured training programme, which allows them to experience all aspects of the business. Alongside this, they receive ongoing support from a Learning Unlimited work-based tutor who visits them frequently to help them work towards their qualifications.
"Apprenticeships are absolutely critical for the future of our company," said Robert Buxton, Managing Director. "We need to keep bringing in new talent so that we can be assured of a skilled workforce for the future. The apprentices with us now are already a valued part of our team."

"We're proud to say that we have some staff who started here as apprentices in the 1970s and are still with us decades on. We hope that our current apprentices will also learn, develop and progress with the company. They are our future."
Five of the apprentices at Briggs of Burton share their experiences:
Sam Holden, 19, is an apprentice machine lathe worker and just five months into his apprenticeship sees this as a career he'd like to pursue for years to come.
"I've already done so much while being here. I love it. I've had the chance to learn new skills and I have been able to go out onto site a few times and can see where I fit into the organisation. I've heard of people who have been here for decades and I can see me doing that too – if they'll have me."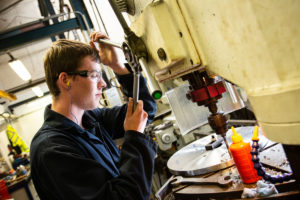 For 18-year-old apprentice, Trey Hoskins, the role is still very new but he feels already that he's learned a lot in a short time.
"I've been here just a few months and so I know there's a lot to learn and it is sometimes a bit challenging but I know I've got all the support that I need so I'm looking forward to learning more over the next year or so."
Meanwhile, George Mansfield has been working in the design and manufacturing department of the company over the past five months.
"I am learning so much more than I imagined and have been able to do computer aided draughting work, which has been interesting. It's all new to me but I am enjoying learning and I don't feel like I'm on my own as I've had a lot of support both from within the team here as well as from my tutor at Learning Unlimited."
Showing that apprenticeships are not just for recent school leavers, Marks Avsjuks, 28, sees this as his chance to carve out a good career in the growing engineering sector. He is into his second year of his apprenticeship and training in fabrication and welding.
"This apprenticeship is a great opportunity for me to learn and progress and develop my career. I'm gaining all the skills, experience and qualifications I need so that I can have a good career, while the organisation invests in my training; why wouldn't anyone be doing this? I would recommend apprenticeships to anyone."
Like Marks, Matt Crane, 27, says he too would recommend apprenticeships and feels not enough is known about the opportunities.
"I'm into my second year of my apprenticeship in fabrication and welding. I like the fact that it's hands-on and you learn through work. I'm enjoying this second year even more than the last as I feel that I'm learning more and gaining new skills."
Briggs of Burton hope to continue their involvement with the apprenticeship programme in the future and supporting young individuals to gain valuable work experience.